With advanced technology, information and all types of data are being processed at extremely high speed. Work on grand challenge problems such as problems in genetic engineering, bioengineering, natural phenomena, hurricanes, oil spills, biotechnology, and ground water pollution is rapidly increasing. Computer visualization and image processing are becoming essential in medical areas. High performance computing is advancing research in many disciplines, and distributed networking systems are being implemented to enhance communication. These are only a few examples of new challenges in the workplace. More than at any time, the work place is in need of people with strong analytical and computational skills.
Dennis Rodriguez, Ph.D.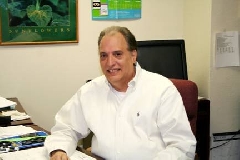 Professor of Mathematics
Chair, Department of Computer & Mathematical Sciences
If you enjoy computers, mathematics, computing, and statistics; if you enjoy solving practical problems; if you enjoy working with teams and the challenge of constantly leaning new things; and if you enjoy the prospect of a job with skills to carry you into the 21st century, then the degrees offered by the Computer and Mathematical Sciences Department at the University of Houston-Downtown prepare you to join this dynamic work place.
Contact Information
One Main Street #S705
Houston TX 77002
Phone: (713)221-8012
FAX: (713)221-8086
Latest News & Opportunities
CMS Course Announcement for SPRING 2012 MATH 3309: Number Theory Instructor: Sergiy Koshkin Class times: Mon & Wed, 4:00pm-5:15pm.; CRN#: 21572 Course description: Elementary treatment of integers and fractions with appl...
Please send any news/opportunity items you deem relevant to our students/faculty/staff to cms@uhd.edu